Attention all adventurous divers! Are you ready to embark on a journey of underwater wonders? Look no further than Lanzarote – a breathtaking island surrounded by the crystal-clear waters of the Atlantic Ocean. As your trusted guides in this aquatic realm, Scuba Legends Dive Center Lanzarote is thrilled to present you with an exclusive list of the Best Diving Spots in Lanzarote in Lanzarote, a magnificent location. So, don your gear, dive into the depths, and let the magic unfold!
1. Playa Chica – The Divers' Playground
Playa Chica in Puerto del Carmen is one of the main locations for diving in Lanzarote. Imagine it as one big site with different entries and multiple routes. From there on, one could do about 10 different dives at different depths and experience level by just entering from shore. This is kind of a blessing to have such great and easy conditions. For thrill-seeking divers and novices alike, Playa Chica offers an aquatic playground like no other. With its shallow entrance and clear waters, Playa Chica is the perfect spot for all levels. Here you can enjoy Snorkel Excursions, Discover Scuba Diving, Diving Courses, Fun Dives and amazing underwater photography. However, just because we are entering from shore, does not mean at all that the dives are less spectacular.
A shallow plateau to start the descent leads into various underwater mountains, slopes, reefs, caverns and volcanic rock formations with a depth from shallow waters to 40m for recreational divers and way deeper options for technical divers. Explore the rocky formations, navigate through captivating swim-throughs, and be prepared to be greeted by curious fish along the way. It's a diver's dream come true! This vibrant dive site boasts a rich diversity of unique marine life, from playful octopuses to elegant seahorses, schools of small fish to big groupers, barracudas, tunas, seahorses, rays, angel sharks, cuttlefish, sponges, flounders, crabs etc. Especially in winter season you will be also able to spot the famous, but endangered Angelsharks. There is lots of exciting stuff to see. The different routes can be accessed from shore and do not require a boat. Visibility varies from 15-30m.
Suitable for: snorkelers, non-certified divers, courses, certified divers, tec divers
2. The Blue Hole – A Natural Wonder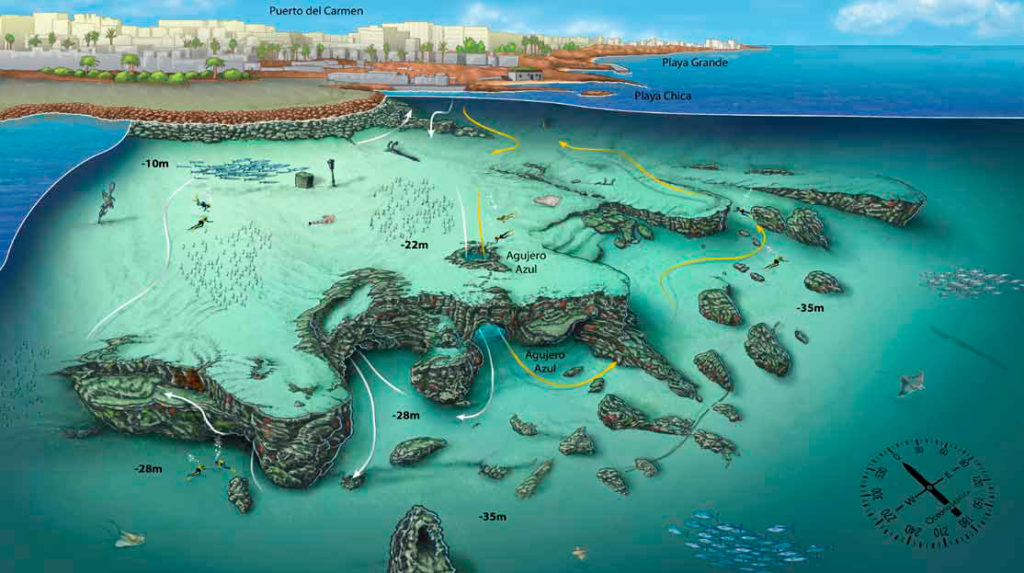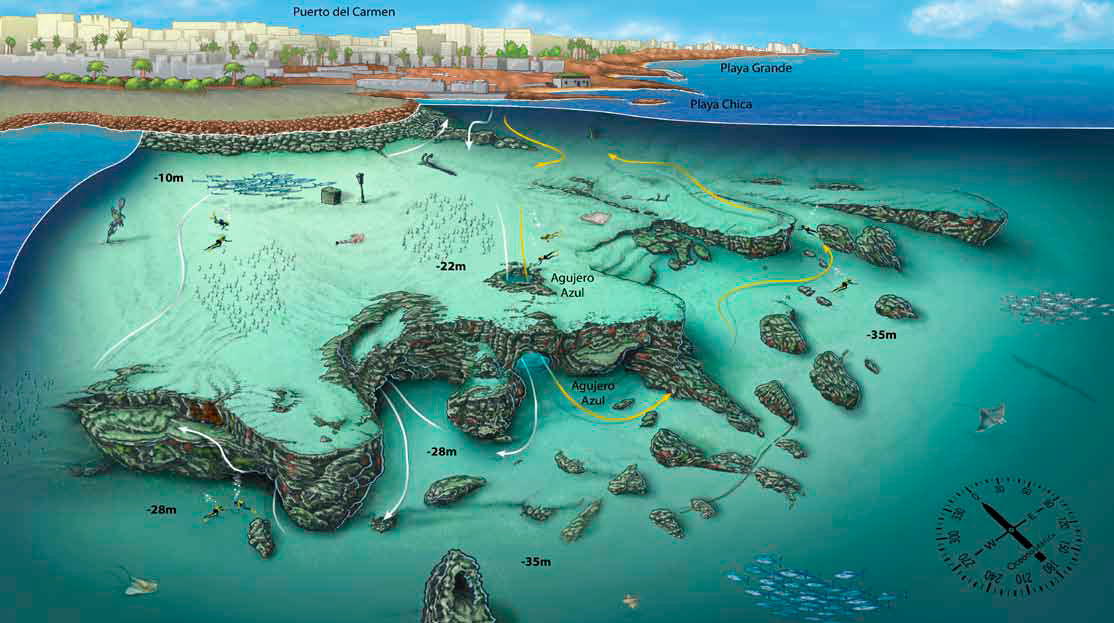 Embark on a mythical underwater journey at The Blue Hole, a natural wonder steeped in mystery and beauty. Located in Playa Chica, just off the coast of Puerto del Carmen, this stunning swim-through is a volcanic arch, where sunlight pierces through the water, creating an ethereal blue glow that mesmerizes divers. The stunning rock formations formed of lava, will make you feel like you're exploring an alien landscape. Dive into the heart of this geological marvel and be transported to another world.
Depending on the experience level, there are different routes to dive the Blue Hole. The less experienced divers can dive above the Blue Hole and watch from the top down into the blue whilst staying close to edge of the reef. The more experienced divers can actually descend a bit deeper and dive through the magical arch with its entrance at around 20 meters, while the maximum depth can reach up to 40 meters. This makes it an ideal spot for those who would like to challenge the depth step by step. The sandy plateau leads us slowly down towards the Blue Hole and gives us the chance to be back in the shallow parts of the reef within a blink of an eye.
Once you venture into the heart of the Blue Hole, you'll be greeted by an awe-inspiring display of flora and fauna. The walls are adorned with sponges, soft corals, nudibranchs and spiny crabs, adding splashes of color to the dark volcanic rock backdrop. The diversity of marine life is astounding, and you'll encounter schools of barracudas, sardines, tunas, trumpetfish, and parrotfish, among others. As you take the plunge, you'll find yourself surrounded by a surreal blue glow, casting an enchanting ambiance that is sure to ignite your sense of wonder.
Suitable for: intermediate to advanced certified divers, tec divers
3. The Cathedral – Divine Depths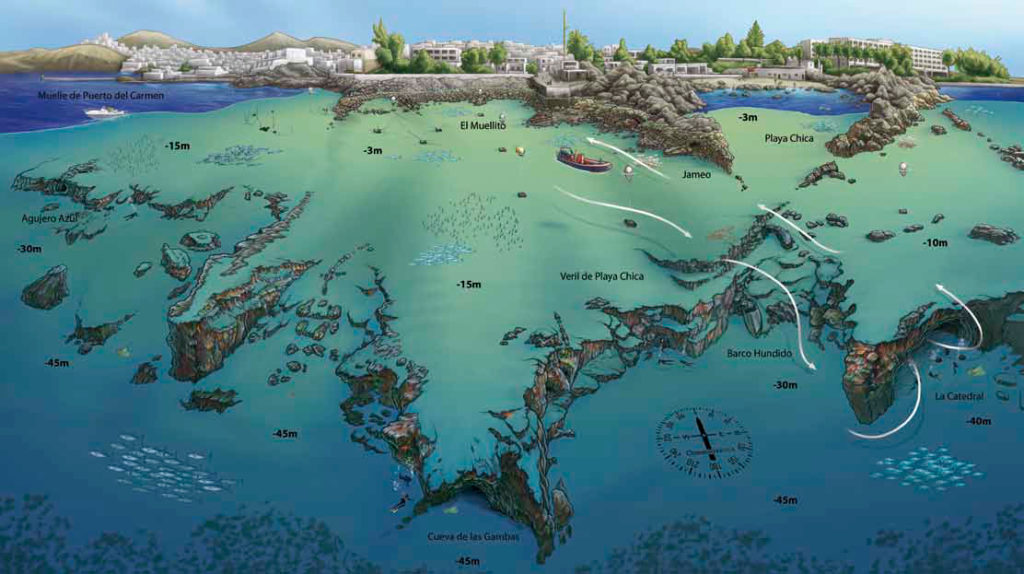 Prepare to be awestruck as you step into the enchanting underwater sanctuary which we consider as number 3 of the Best Diving Spots in Lanzarote. As you descend into the divine depths of "Cathedral", located in Playa Chica, Puerto del Carmen, you'll find yourself immersed in a realm of tranquility. Once inside the cave's ethereal chamber, you'll be greeted by a breathtaking sight – the "La Catedral." On a sunny day with clear water some light might be streaming through the big opening so you get a great view on the rock formations that resemble the grand arches of a cathedral. It's an experience that transcends the ordinary and transports you to a world of wonder and magic.
You might even be lucky enough to encounter angel sharks or rays, adding a touch of mystical allure to your underwater journey. It is always recommended to keep and eye onto the blue, as bigger fish might pass by, especially at moments of stronger currents. On the reef of the upper edge of the Cathedral you have great chance for spotting barracudas and tunas chasing schools of sardines, as well as decently sized groupers. Many years back, the big and dusky grouper Felix, as the locals called him, used to live here. Nowadays, we can find his descendants watching out for the place.
The minimum depth at this site is approximately 27 meters, while the maximum depth can reach up to 40 meters. It's an ideal dive for advanced divers who have honed their skills, have good buoyancy control & air consumption and are eager to explore the depths. Depending on the tides and conditions, it is important to have a good guide that knows where to hide in case of currents.
Suitable for: advanced certified divers up to tec divers
4. The Shipwrecks of Puerto del Carmen – 3 in 1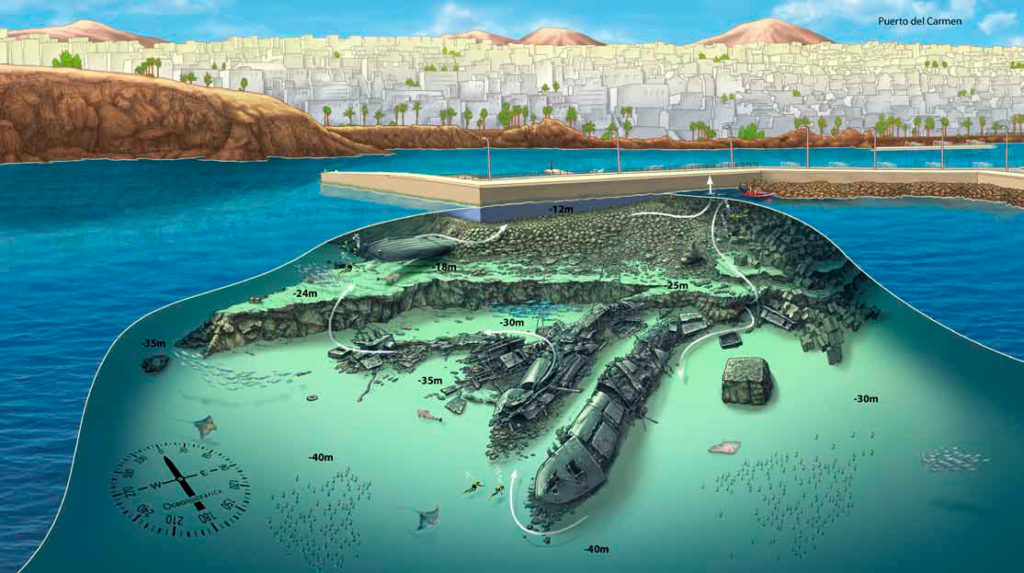 Embark on a captivating journey back in time as you dive into the depths of the Shipwrecks of Puerto del Carmen, Lanzarote. This underwater graveyard holds the remains of sunken vessels, each carrying its own tale of adventure and mystery, waiting to be discovered by intrepid divers like you. Given the right experience level, you might be able to se three shipwrecks in only one dive, all located just in front of the port, which will be accessed by boat. The site's minimum depth is approximately 18 meters, making it accessible to intermediate divers, while the maximum depth reaches around 40 meters, providing a thrilling exploration for advanced divers.
The shallowest wreck at 18-25 meters sticks out of the wall of the port and is an amazing object for underwater photography due to its unusual view. Of the three wrecks it is also the best preserved one, whilst the other two deeper ones are on the sea bottom and already pretty destroyed and collapsed. The remains of the wrecks are popular amongst divers and when planning multiple days of diving you should definitely put the wrecks on your bucket list for boat diving.
The shipwrecks are now teeming with an abundance of marine flora and fauna. Sponges have found a home on the vessels' surfaces, and schools of colorful fish, such as parrotfish and trumpetfish, swirl around the corroded hulls. The dive site combines the wrecks perfectly with the wall of the port which functions as a house reef for marine life. Along the wall you will find nudibranchs, damselfish, barracudas. In the end of the dive it is worth it to swim out to the sandy part just in front of the port entrance. Here the chance is high to find some of the famous big stingrays.
Suitable for: intermediate certified divers up to tec divers
5. Museo Atlántico –  Unleashing Underwater Creativity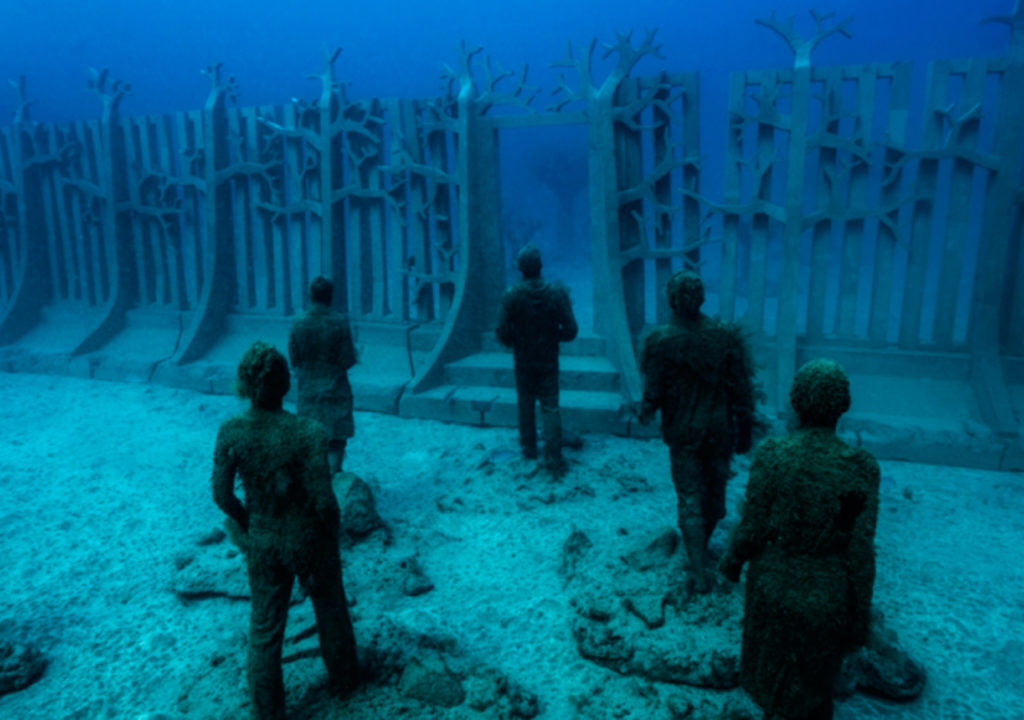 Imagine exploring an enchanting world where art meets marine life – welcome to the Museo Atlántico, Lanzarote's very own underwater museum. Conceived by renowned artist Jason deCaires Taylor, this surreal and innovative site is unlike anything you've ever seen before. Submerged statues and sculptures provide not only an artistic spectacle but also an ecological purpose by fostering marine life and coral growth. Dive into this submerged gallery to witness the mesmerizing interplay between art and nature.
As you descend into this submerged gallery, you'll encounter a surreal display of human-like sculptures, each contributing to the growth of marine life and the formation of artificial reefs. The sculptures at the Museo Atlantico have become a home, providing shelter and sustenance for countless fish species. As you explore the site, you'll encounter sardines, garden eels, grey mullets, damselfish, breams, barracudas, parrotfish, and trumpetfish, among others, weaving effortlessly through the artful formations. It's a living testimony to how art can interact with the marine environment, creating a harmonious ecosystem where both man-made and natural elements thrive together. The underwater sculptures, with their weathered appearance, seem to breathe life into the very ocean they inhabit.
The Underwater Museum requires access by boat and caters to divers of varying expertise, with a minimum depth of approximately 12 meters and a maximum depth of around 15 meters. It welcomes both non-certified divers during their extended Discover Scuba Diving experience, as well as beginners to seasoned divers to explore its unique wonders.
Suitable for: non-certified divers, beginner and advanced certified divers
In conclusion, Lanzarote's waters are teeming with diverse dive sites, each offering a unique and captivating experience for scuba enthusiasts. As Scuba Legends Dive Center Lanzarote, we are committed to providing you with unforgettable underwater adventures. Whether you're an experienced diver or just starting your scuba journey, Lanzarote has something magical to offer and is definitely worth a real diving vacation with a dive package of 10-15 dives combined by shore and boat in different areas. So, don't wait any longer! Grab your gear, join our dive excursions, and immerse yourself in the wonders of the Best Diving Spots in Lanzarote. Let the ocean embrace you and uncover the mysteries that lie beneath the surface.
Dive with us, and let the legends come alive!
-> Find out more information about Lanzarote as a diving destination.