PADI INSTRUCTOR DEVELOPMENT COURSE (IDC)
Seek adventure – Join the PADI IDC and become a legendary diving instructor!
Live your dream as a PADI Scuba Diving Instructor. Do what you love most. Exchange your office for the ocean.
"Dream big, enjoy the journey and make it legendary."
Would you like to turn your hobby into a profession? If you like to dive and dedicate yourself professionally to your passion, you are probably a potential diving instructor. With the title of PADI Open Water Scuba Instructor (OWSI) you can work all over the world.
If you like people, have a passion for scuba diving and want an extraordinary life – become a PADI Instructor. Teaching scuba diving allows you to share your love for the aquatic world with others whilst doing what you enjoy most – being in, around and under water.
PADI Open Water Scuba Instructors (OWSI) and PADI Assistant Instructors (AI) are the most sought-after dive professionals around the world because they've completed the program that sets the standard for training dive professionals.
You earn a PADI Instructor rating through hard work and commitment, but you will be rewarded with a job that lets you share incredible underwater adventures with others – transforming their lives for the better and enriching yours. If you are ready to join the ranks of the dedicated professionals who teach the world's most progressive and popular scuba diver education programs, then Go Pro with Scuba Legends Dive Center, here in Lanzarote, Canary Islands.
PADI Instructor Development Course (IDC)
The PADI Instructor Development Course (IDC) prepares you, the candidate, to work as a PADI Open Water Scuba Instructor. You gain knowledge of diving theory at instructor level, model-level water and rescue skills and leadership skills, learn how to teach in confined water, in the classroom, and in open water.
As an instructor candidate you gain a complete understanding of the PADI educational goals and the PADI philosophy. During your PADI Instructor Development Course (IDC), you will carry out different workshops aimed to acquiring knowledge and practice of all PADI courses at teaching level, as well as workshops on risk management, marketing and sales, and course management and development. You will practice all the dry exercises in the classroom and then in confined open water in the sea until we acquire a demonstrative quality at the required level.
After completing your IDC, you will demonstrate what you have learned in the Instructor Examination (IE). Here, an independent and objective PADI Instructor Examiner, assesses your teaching techniques in and out of the water, your knowledge and expertise, checks everything from dive theory to PADI standards. PADI is the only training organization that requires an objective and independent examen to qualify you as a professional instructor.
Candidates who complete the Instructor Development Course and Instructor Examination will obtain the required knowledge and qualifications to teach PADI diving courses from Open Water to Divemaster.
DURATION & PROGRAM
 
MAY 2023
OCTOBER 2023
DECEMBER 2023 
JANUARY 2024
MAY 2023
Pre IDC
16/05/23 & 17/05/23

TBC

TBC

TBC

TBC

IDC
18/05/23 to 25/05/23

TBC

TBC

TBC

TBC

IE
26/05/23 &

27/05/23

03/10/23 &

04/10/23

04/12/23 &

05/12/23

TBC

TBC

IDC PRICES & PACKAGES 2023
Save & profit with our package offers, which include all required materials as per PADI Standards.
.

.
IDC BASIC
Pre IDC
IDC course
EFR Instructor Course
PADI eLearning Crewpack
Professional Orientation
Internships after the course
.

.
IDC PREMIUM
Pre IDC
IDC Course
EFR Instructor Course
PADI eLearning Crewpack
Professional Orientation
Internships after the course
5 Instructor Specialties of your choice
.

.
IDC PRO
Pre IDC
IDC course
EFR Instructor Course
PADI eLearning Crewpack
Professional Orientation
Internships after the course
5 Instructor Specialties of your choice
Shared Accommodation
In case you do not want to book a package offer or have already completed parts of the training or purchased materials, you can book only the components you require:
| | |
| --- | --- |
| COURSES & MATERIALS* |   |
| Assistant Instructor Course |   545,00 € |
| IDC Course | 1095,00 € |
| EFR Instructor Course |   545,00 € |
| IDC Candidate Crewpack (eLearning + cue cards), incl. freight |   595,00 € |
| 5 Specialty Instructor Ratings |   275,00 € |
*PADI readjusts the prices for materials as well as application and exams fees annually. Therefore, Scuba Legends might adjust prices accordingly. Prices above do not include the PADI fees, which have to be paid directly to PADI at the start of the IDC.
| | |
| --- | --- |
| PADI FEES 2022 excl. VAT (not included in courses) |   |
| IDC Application – obligatory | 215,00 € |
| Instructor Examination – obligatory | 743,00 € |
| EFRI Application – obligatory | 134,00 € |
| Specialty Instructor Application – optional |   51,00 € |
PREREQUESITES FOR THE IDC / IE
Be an active status PADI Divemaster, or leadership level certified with another diver training organization at equivalent level*
Be at least 18 years old
Emergency First Response Primary and Secondary Care (CPR and First Aid) training within the past 24 months.
Have been a certified diver for at least 6 months
Have at least 100 logged dives before the Instructor Exam
Be an Emergency First Response Instructor (will be part of the IDC)
Be medically fit for diving
Have an active dive insurance as obligatory in Spain
REQUIRED EQUIPMENT
Instructional kit
Electronic recreational dive planner (eRDPml), digital version accepted
Personal pocket mask
Compass
2 ropes
Diving equipment as required for Instructors by PADI Standards
**If you are missing any requirements, documentation, materials or equipment, please contact us early enough to make sure you are fully set up before the start of your IDC.**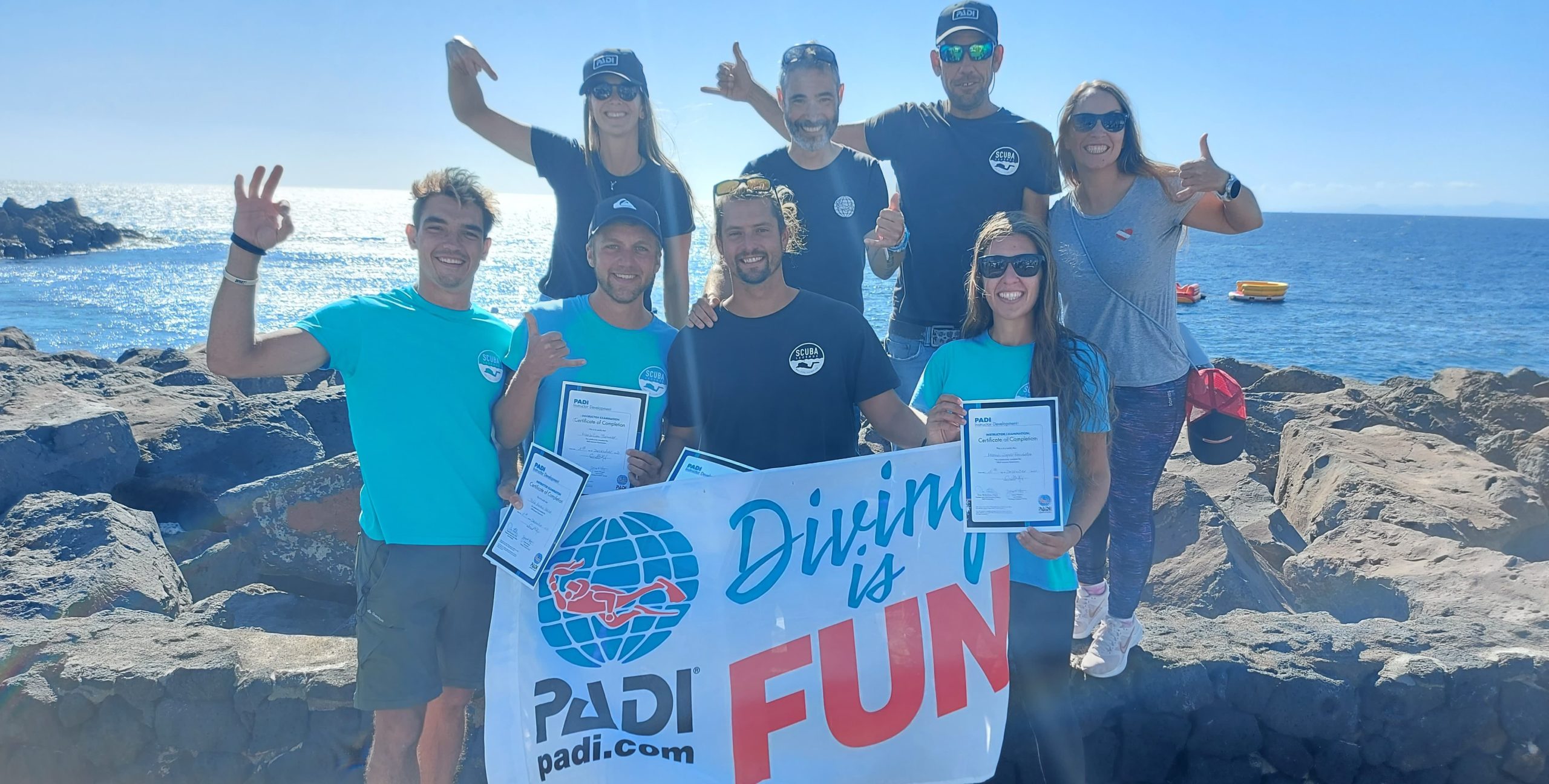 Your PADI Platinum Course Director – Chiqui Bustos
 In 2007 Chiqui took a 180 degree turn in his life. He traded his office for the sea, and his suits and ties for wetsuits and regulators. Since then, he has the great luck to dedicate himself completely to the world of diving.
For many years he combined the work of Course Director in the Maldives during the winter months, with the training of new divers in mainland Spain during the rest of the year.
People say Chiqui is obsessed with good training and so far, we can fully confirm this. Precisely this is the reason why we choose to cooperate with him. Students do what the instructors teach them, that is why he has always enforced the good practice of diving skills, acting respectful towards the underwater world, knowing how to maintain a good trim and neutral buoyancy underwater whilst making diving safe and fun.
As a former PADI IDC Staff Instructor Chiqui had the opportunity to collaborate in the training of several diving instructors and now as Course Director of PADI, he still maintains his high level of enthusiasm with which he started diving so many years ago. His goal is clear: to train instructors to empower in their students those same good habits underwater and to promote respect for the sea.
On his path he was also supported by some exceptional collaborators who hold the highest credentials in the world of diving and who work with Chiqui regularly during the PADI Instructor Development Courses.
Take one step further and start teaching others! Chiqui and our experienced team of PADI Master and IDC Staff Instructors will prepare you in person to face the Instructor Examination safely and confidently.
Private Dive Instructors and Guides – Make it epic!
Are you dreaming of personal VIP service for you, your family & friends? Enjoy our exclusive private diving services in Puerto del Carmen, Lanzarote.
We adapt the diving experience to your needs, level of experience and preferences.
More info
Book now