The best dives in Lanzarote. Make it legendary!
Puerto del Carmen, in the eastern half of Lanzarote, is one of the best places in Europe for recreational and technical diving. That is why we consider our home below the surface and have our dive center on land.
At Scuba Legends we dive legendary, therefore our groups are small and individual (maximum 4 divers per guide). Our Divemasters and Instructors will show you the best dive sites and accompany you into the magical underwater world and its fantastic creatures. Let yourself be inspired by our passion for the sea and diving.
Prices for Diving in Lanzarote
.

.
RECREATIONAL DIVING
1 dive: 45€ (1x single dive)
2 dives: 80€ (1x double dive)
6-Pack: 225€ (3x double dives)
10-Pack: 350€ (5x double dives)
.

.
TECHNICAL DIVING
1 dive: 95€ (1x single dive)
2 dives: 170€ (1x double dive)
6-Pack: 480€ (3x double dives)
10-Pack: 750€ (5x double dives)
.

.
REFRESH YOUR DIVING SKILLS
If you have not dived for a long time and want to refresh your diving skills, we'll update you with a refresher dive:
Refresher Recreational Diving: 75€
Refresher Technical Diving: 140€
Prices are based on shore diving and guided by a PADI Divemaster/Instructor. Included are 12 L steel tanks, 10L & 15L are available free of charge upon previous request (subject to availability). Single dives and night dives are not part of the discounted package prices.
Extra charges apply for equipment rental and boat dives. Boat spaces are limited and require pre-booking. Please contact us.
According to Spanish law, every diver is obligated to have a personal diving insurance. We cooperate with the diving insurance DAN / IDA and offer different covers: 7€/day, 25€/week, 50€/ year.
Technical diving: Extra charges will be applied for equipment rental and gas fillings (e.g. Nitrox, Oxygen, Trimix).
Private Dive Instructors and Guides – Make it epic!
Are you dreaming of personal VIP service for you, your family & friends? Enjoy our exclusive private diving services in Puerto del Carmen, Lanzarote.
We adapt the diving experience to your needs, level of experience and preferences.
More info
Book now
Where to dive in Lanzarote?
The dives in Lanzarote, especially in Puerto del Carmen, are among the best in Europe and are known for the spectacular underwater landscape and the abundance of life in the Atlantic Ocean. Volcanic rock soils from a few meters deep to more than 60 meters. A rocky bank full of life, caves, caverns, tunnels and wrecks or sunken ships that offer many possibilities for all types of divers, from beginners to technical divers.
Our Dive Center is located in the center Puerto del Carmen, so we are only a few minutes away from the best dive sites on the island. You probably might have heard about La Catedral, the Blue Hole, the wrecks of Quíquere or Cueva de las Gambas. These are the most famous dive sites, but there are many more places to dive. You will be amazed with your mouth open: check out Waikiki, Richie's Place, La Pared, El Veril de Fariones and many more.
Along the volcanic reefs and its beautiful landscape, you can find angel sharks, seahorses, rays, giant groupers, squid, tunas, barracudas and beautiful nudibranchs.  Also, orange corals, sponges, and anemones are not uncommon.
We dive both from the shore and from the boat.
We also visit the Museo Atlantico.
On request we dive all over the island like Mala and Playa Blanca.
Discover the only underwater museum in Europe with Scuba Legends: Museo Atlantico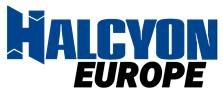 Official Halcyon Dealer
Halcyon, a brand known for its high quality and longevity. Recognition and prestige, both, in technical and recreational diving. We are the only authorized Halcyon dealer in the entire Canary Islands.